"Excellence is never an accident; it is the result of high intention, sincere effort, intelligent direction, skillful execution, and the vision to see obstacles as opportunities."
If you're an aspiring musician who wants to make it big in the music industry, you've come to the right place. Keep reading because we've got something special in store.
The music industry is vast, and it is becoming increasingly competitive, with new artists, genres, and songs emerging on a daily basis. So, is it even possible to break into the music industry and make a living from it? The simple answer is "Yes!" Although, in a highly competitive industry, you can make a name for yourself as a singer, composer, or musician. It all boils down to getting the right training, adequate guidance, your commitment to achieving your goal, and your desire to learn something new every day.
Legendary musician B.B. King once said "The beautiful thing about learning is that nobody can take it away from you,". Because learning is the first and most important step towards building a career in music. We at MuzoFreak the School of Music have put together an exclusive learning programme for beginners and aspiring musicians called the 'MYP' or 'MuzoFreak's Yearly Programme.'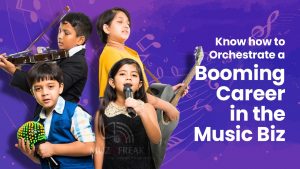 So what exactly is the MYP?
The MYP is a one-of-a-kind learning programme designed by musicians with the primary goal to deliver music as a lifelong experience and, for musicians who are just starting out in the music industry. Our learning programme focuses on teaching students to master both theoretical and practical aspects of music. Our goal with this learning programme is to help students pursue careers in the music industry. We intend to do so by preparing students for Trinity certification. Not only that, but this learning programme could benefit people working in the corporate sector as well because music is a great way to de-stress. The great Billy Joel once said "I think music in itself is healing. It's an explosive expression of humanity. It's something we are all touched by. No matter what culture we're from, everyone loves music."
Why choose MYP?
The MYP is a year-long learning programme in which students spend more than 100 hours learning and perfecting the instrument of their choice under the supervision of certified and professionally trained instructors. We hold regular mock exams and question and answer sessions to help students develop a variety of skills. Our campus is designed with the intention of having a separate classroom for each instrument. We have the most up-to-date and best-in-class instruments for students to practice on. We also offer open practice sessions for students to further explore the instrument. Throughout the course, students will also have access to the masterclass and live gigs; attending live shows will give them an insight into what happens during an event. Not only that but our batch sizes are limited to ensure that each student receives adequate and personalized attention from the instructor.
The MYP is a once-in-a-lifetime chance to make it big and make your dream a reality.  Get in touch with us for more details regarding the learning programme.